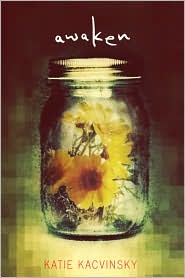 Maddie lives in a world where everything is done on the computer. Whether it's to go to school or on a date, people don't venture out of their home. There's really no need. For the most part, Maddie's okay with the solitary, digital life—until she meets Justin. Justin likes being with people. He enjoys the physical closeness of face-to-face interactions. People aren't meant to be alone, he tells her.
Suddenly, Maddie feels something awakening inside her—a feeling that maybe there is a different, better way to live. But with society and her parents telling her otherwise, Maddie is going to have to learn to stand up for herself if she wants to change the path her life is taking.
In this not-so-brave new world, two young people struggle to carve out their own space.
This is the most difficult book I've had to review in a while. Normally, I either liked it or I didn't. However, in the case of Katie Kacvinsky's debut novel, I had mixed emotions upon finishing it. I've been on a bit of a dystopian kick lately, so it could have been due to the fact that I've been reading so many of them, but I found Awaken hard to get into at first. It has an interesting premise, one that I could definitely see happening with the way the world is going, but there was nothing about it that really grabbed me and held my interest. In fact, I started this book before Wintergirls, but had to take a break because I was 50 pages in and still didn't feel like it was going anywhere.
The action picked up in the last third of the book. I read the last 75 pages faster than I'd read the first 170 (I had the Nook version), and I enjoyed the direction the story took. I just wish it had been that exhilerating the whole way through. I will say though, the blossoming relationship between Maddie and Justin was wonderful to read. The characters were well-developed, and the struggles they faced when trying to decide whether or not to be together were realistic and believable.
Overall, I would recommend this book to those who are just entering a dystopian phase. It's well-crafted and interesting, but falls short if you've been reading other dystopian novels for months. The ending set it up for a sequel, so I'll be interested to see how the second book compares.
J