*In case you missed it, I made it to 100 followers over the weekend! I'm running a
giveaway
with some really awesome prizes, so check it out! :)*
*Please don't forget! If you liked my
second Campaign piece
, I need your votes. Head on over and "
Like
" my entry (#51 on the list)!*
I woke up on Sunday morning with a head cold. It was delicious. Okay, not really. But I did get to stay home from work yesterday, which was kind of nice. I was a useless lump for the majority of the day, choosing an Ugly Betty marathon and hot tea over actually being productive and writing. Don't judge me.
Anyway, today is Tuesday, which means another teaser. This meme is hosted by MizB over at
Should Be Reading
. You can participate too, if you want. Just grab the book you're currently reading and open to a random page. Share a two-sentence excerpt, but don't include any spoilers. We want to tease people into reading, not ruin their appetite for the book. :) Be sure to include the book's title and author so that other people can add it to their TBR pile if they want to.
I'm still reading Daughter of Smoke and Bone, by Laini Taylor. With the Campaign, and trying to write, and finishing up flower girl stuff, and getting sick, reading has been a little low on my priority list (sad day, I know). Plus, this book is just too good to devour quickly. I'm savoring it. So, here you go: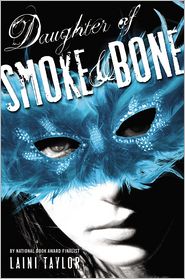 "Beautiful men and women with distorted shadows came and scorched their handprints onto doors before vanishing skyward, drafts of heat billowing behind them with the whumph of unseen wings. Here and there, feathers fell, and they were like tufts of white fire, disintegrating to ash as soon as they touched the ground."
There you have it! And seriously guys, if you haven't checked out my contest or my Campaign piece, go do it. The links are at the top of this post, and I promise you won't regret it. :) Happy Tuesday!
J